More Than 100 Roger Stone Accounts, Pages Removed from Instagram and Facebook
A network of more than 100 social accounts and pages related to former Trump adviser Roger Stone were removed Wednesday. The under the radar raid reportedly consisted of 54 Facebook accounts, 50 Facebook pages and four accounts on Instagram, a photo-sharing platform owned by Facebook.
Approximately 260,000 accounts followed one or more of these Pages and 61,500 people followed one or more of these Instagram accounts. Several of the pages were also linked to the Proud Boys, a far-right group banned from Facebook in 2018.
The pages and accounts in question appeared to have "coordinated inauthentic behavior" focused on audiences in the U.S., targeting Stone directly, political issues in Florida, and hacked materials released by WikiLeaks during the 2016 presidential election cycle.
"The people behind this activity used fake accounts — some of which had already been detected and disabled by our automated systems — to pose as residents of Florida, post and comment on their own content to make it appear more popular than it is, evade enforcement, and manage Pages," Nathaniel Gleicher, Facebook's head of cybersecurity policy, wrote in a blog post for the social media giant. "Several of these Pages had links to Proud Boys, a hate group we banned in 2018. Some Pages appeared to have acquired followers from Pakistan and Egypt to make themselves seem more popular than they were."
The network was most active between 2015-2017, according to Gleicher.
"Since then, the majority of these accounts have been dormant, and some were permanently deleted by the users," he wrote. "The Page admins and account owners posted about local politics in Florida, Roger Stone and his Pages, websites, books, and media appearances, a Florida land and water resources bill, the hacked materials released by Wikileaks ahead of the US 2016 election, candidates in the 2016 primaries and general election, and the Roger Stone trial."
Gleicher added, "We first started looking into this network as part of our investigation into the Proud Boys' attempts to return to Facebook after we had designated and banned them from the platform. We identified the full scope of this network following the recent public release of search warrants pertaining to the investigation by Special Counsel Robert Mueller in response to a joint petition from The New York Times, CNN, the Associated Press, The Washington Post, and Politico. Our investigation linked this network to Roger Stone and his associates."
Gleicher's team concluded that advertising spent on the campaigns totaled less than $308,000.
Examples of the posts are below.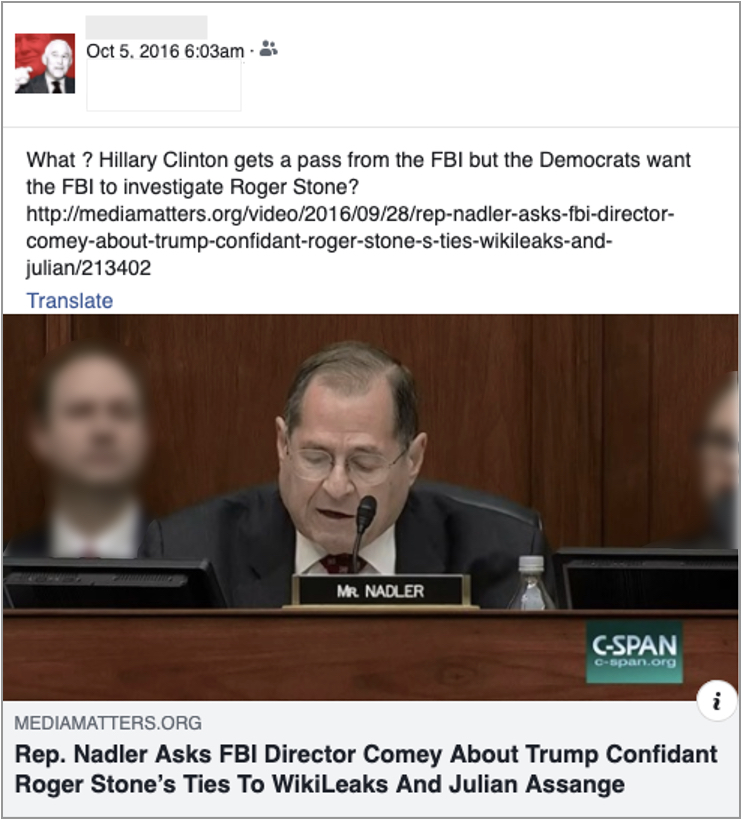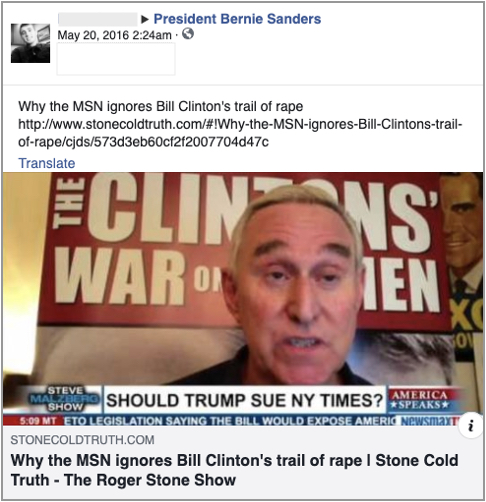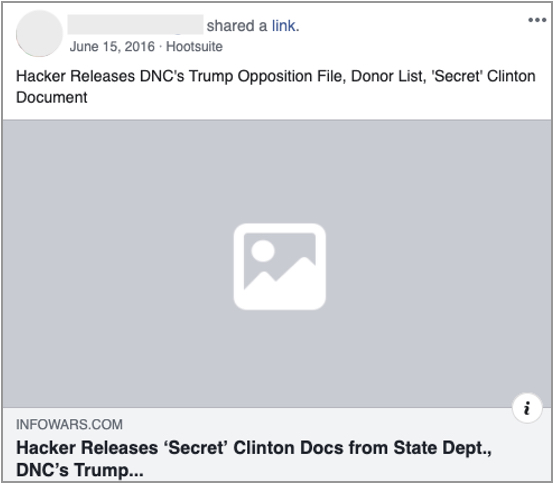 This past February, Stone was sentenced to 40 months in prison following his conviction of lying to Congress, witness tampering and obstructing a proceeding related to the Robert Mueller investigation into the 2016 election and Russian interference.
Enjoy this piece?
… then let us make a small request. The New Civil Rights Movement depends on readers like you to meet our ongoing expenses and continue producing quality progressive journalism. Three Silicon Valley giants consume 70 percent of all online advertising dollars, so we need your help to continue doing what we do.
NCRM is independent. You won't find mainstream media bias here. From unflinching coverage of religious extremism, to spotlighting efforts to roll back our rights, NCRM continues to speak truth to power. America needs independent voices like NCRM to be sure no one is forgotten.
Every reader contribution, whatever the amount, makes a tremendous difference. Help ensure NCRM remains independent long into the future. Support progressive journalism with a one-time contribution to NCRM, or click here to become a subscriber. Thank you. Click here to donate by check.
House Foreign Affairs Chair Now Investigating Alleged Threats to Former Ukraine Ambassador From Giuliani Associate and Trump Donor
House Foreign Affairs Chairman Eliot Engel has just announced he is investigating the alleged, jaw-dropping threats against former U.S. Ambassador to Ukraine, Marie Yovanovitch. Those threats, which include a disturbing series of text messages (below) were apparently made by Lev Parnas (photo), a former Giuliani associate who has been arrested and charged with campaign finance crimes, and Robert Hyde, a Trump donor and Republican congressional candidate.
"Documents turned over to the Intelligence Committee by Lev Parnas include a profoundly alarming dialogue between Mr. Parnas and Robert Hyde, a Trump donor," Chairman Engel said in a statement Wednesday. "The messages suggest a possible risk to Ambassador Marie Yovanovitch's security in Kyiv before she was recalled from her post last year. These threats occurred at the same time that the two men were also discussing President Trump's efforts, through Rudy Giuliani, to smear the ambassador's reputation."
Today, I will convey a formal request for documents, information, and a briefing from senior officials related to this matter.

This unprecedented threat to our diplomats must be thoroughly investigated and, if warranted, prosecuted to the fullest extent of the law. https://t.co/QmJjnmbYJf

— Eliot Engel (@RepEliotEngel) January 15, 2020
Politico national security correspondent Natasha Bertrand tweeted images of the alarming texts Tuesday evening:
Um holy sh*t. This certainly makes it sound like Parnas and co. were actively tracking Yovanovitch's movements. This could explain why Yovanovitch was moved out of Ukraine so quickly. https://t.co/4rBRB06ZGN pic.twitter.com/5Gc8WcGPih

— Natasha Bertrand (@NatashaBertrand) January 14, 2020
Among them are these disturbing texts:
"Can't believe [Trump] hasn't fired this bitch … They are willing to help if we/you would like a price" — texts about then-Ambassador Yovanovitch from a thug who has spent time with Trump and appeared to be working on behalf of Giuliani, to one of Giuliani's Ukraine fixers pic.twitter.com/BJSMcV9zYZ

— Aaron Rupar (@atrupar) January 15, 2020
Hyde, the Trump donor who allegedly was part of the text conversation, defended himself via this tweet:
How low can liddle Adam Bull Schiff go? I was never in Kiev. For them to take some texts my buddy's and I wrote back to some dweeb we were playing with that we met a few times while we had a few drinks is definitely laughable. Schiff is a desperate turd playing with this Lev guy.

— HYDE for U.S. Congress (@rfhyde1) January 15, 2020
And more recently, this one:
Liddle Adam Bull Schiff and the Standard Hotel, I wasn't there either or was I… #fuckadamschiff

— HYDE for U.S. Congress (@rfhyde1) January 15, 2020
Image via Twitter