House Intel Committee Now Investigating Trump's Lawyers for Possible Obstruction: NYT
The New York Times has just published a big story: The House Intelligence Committee is now investigating personal attorneys representing President Donald Trump and his family for possible obstruction. This new investigation relates to the Committee's investigation into Russia's attack on the U.S. 2016 presidential election.
"The line of inquiry stems from claims made by the president's former personal lawyer and fixer, Michael D. Cohen, who told Congress earlier this year that the lawyers in question helped edit false testimony that he provided to Congress in 2017 about a Trump Tower project in Moscow. Mr. Cohen said they also dangled a potential pardon to try to ensure his loyalty," the Times reports.
Requests for documents have been sent to "Jay Sekulow, who represents the president; Alan S. Futerfas, who represents Donald Trump Jr.; Alan Garten, the top lawyer at the Trump Organization; and Abbe D. Lowell, who represents Ivanka Trump."
House Intelligence Committee Chairman, in a letter to the four attorneys, wrote, "it appears that your clients may have reviewed, shaped and edited the false statement that Cohen submitted to the committee, including causing the omission of material facts."
Enjoy this piece?
… then let us make a small request. The New Civil Rights Movement depends on readers like you to meet our ongoing expenses and continue producing quality progressive journalism. Three Silicon Valley giants consume 70 percent of all online advertising dollars, so we need your help to continue doing what we do.
NCRM is independent. You won't find mainstream media bias here. From unflinching coverage of religious extremism, to spotlighting efforts to roll back our rights, NCRM continues to speak truth to power. America needs independent voices like NCRM to be sure no one is forgotten.
Every reader contribution, whatever the amount, makes a tremendous difference. Help ensure NCRM remains independent long into the future. Support progressive journalism with a one-time contribution to NCRM, or click here to become a subscriber. Thank you. Click here to donate by check.
'A Democratic Tsunami': Top Election Forecaster Changes 2020 Prediction
President Donald Trump and his supporters are hoping that if his hardcore MAGA base shows up in big numbers in November and Democratic turnout is weak, he will be able to pull off another Electoral College victory. In order for that to happen, Trump will need to fire up his base as much as possible in swing states.
But according to new, updated analysis from the Cook Political Report, former Vice President Joe Biden has an increasing advantage in many of the swing states that Trump needs to win.
"This election is looking more like a Democratic tsunami than simply a blue wave," Cook's Amy Walter reports. "President Trump, mired in some of the lowest job approval ratings of his presidency, is trailing Biden by significant margins in key battleground states like Pennsylvania (8 points), Michigan (9 points) and Wisconsin (9 points). He's even running behind Biden in his firewall states of Florida and North Carolina."
This month, Walter explains, Biden is looking even better in swing states than he did in June — and Cook has changed its Electoral College ratings to "reflect this reality."
Walter explains that according to Cook's analysis this week, "Wisconsin, Pennsylvania and Nebraska's 2nd District move from 'toss-up' to 'lean Democrat.' Maine, once in 'lean Democrat,' moves to the safer 'likely Democratic category.'"
The Cook reporter adds, "Georgia has joined Arizona, North Carolina and Florida in the 'toss-up' column, although at this point, Biden would be slightly favored to win at least Arizona and Florida."
Florida has been a swing state for a long time. President George W. Bush won Florida twice, but so did President Barack Obama — before Trump carried the state in 2016. But only in recent years has once-red Arizona become a swing state.
The victory of Democratic Sen. Kyrsten Sinema in Arizona was one of the big political bombshells of 2018, and poll after poll has shown Republican Sen. Martha McSally trailing Democrat Mark Kelly in this year's U.S. Senate race in that state. Moreover, Biden appears to be quite competitive in Arizona, which for decades, was a deep red state synonymous with the conservatism of Sen. Barry Goldwater and later, Sen. John McCain.
Trump's poor performance in recent polls is being felt on Wall Street: according to Axios reporter Dino Rabouin, Wall Street is now betting on a Biden victory — a change from earlier this year.
Rabouin reports: "Betting markets have turned decisively toward an expected victory for Joe Biden in November — and asset managers at major investment banks are preparing for not only a Biden win, but potentially, a Democratic sweep of the Senate and House too…. The shift is the latest indicator of how quickly the political and business worlds have aligned in the view that Trump is unlikely to win a second term as COVID-19 infection numbers have spiked again and the economy looks to be stalling."
On May 11, Rabouin reported that Wall Street was expecting Trump to win a second term. But more recently, according to Rabouin: "A Citigroup poll of 140 fund managers released last week found that 62% expect a Biden win, compared to 70% who expected a Trump victory in the same survey in December. And according to Kace Capital Advisors Managing Director Kenny Polcari, 'Talk of a Democratic sweep (is) now common' among investors."
Walter, on Cook's website, stresses that the "Democratic tsunami" in November could include not only Trump losing to Biden, but also, Democrats retaking the U.S. Senate and expanding their majority in the U.S. House of Representatives.
None of that is to say that Trump won't turn things around between now and November. There were summer polls that, in 1988's presidential race, showed Democratic nominee Mike Dukakis with a double-digit lead over Vice President George H.W. Bush. But in 1988, the U.S. wasn't coping with the world's deadliest pandemic in more than 100 years.
Walter adds the caveat that the race could still change, noting:
One of the biggest unknowns, however, is voting itself. As we've seen this spring and early summer, most states are not prepared for an onslaught of absentee ballots. And confusion about how/where to vote could impact turnout.
She also floats the possibility of voters splitting their ticket this year — that is, voting for Biden over Trump but voting GOP in Senate and House races. However, a GOP strategist interviewed by Cook is predicting that many voters will go straight Democratic this time.
"If voters start to sense that the race for president is a blow-out, will they be more willing to split their tickets to ensure a 'check and balance' in Washington next fall?" Walter writes. "At least one Republican I spoke with, however, was wary of a check-and-balance working this year, telling me that 'people are looking for a restart and a reset.' That includes down-ballot candidates as well as the president."
Trump Harasses CDC Into New School Re-Opening Guidelines As COVID Cases Reach 3 Million
The Centers for Disease Control and Prevention (CDC) Wednesday presented a set of guidelines for returning to school this fall. Guidelines that were almost immediately trashed by President Donald Trump.
"We hope that most schools are going to be open," Trump said at a White House event Wednesday. "They think it's going to be good for them politically, so they keep the schools closed…no way. We're very much going to put pressure on governors and everybody else to open the schools, to get them open."
I disagree with @CDCgov on their very tough & expensive guidelines for opening schools. While they want them open, they are asking schools to do very impractical things. I will be meeting with them!!!

— Donald J. Trump (@realDonaldTrump) July 8, 2020
Vice President Mike Pence responded to the rebuke during a news conference addressing the issue. Pence said the CDC will issue new guidelines with "more clarity." Pence addressed the update during his White House coronavirus task force meeting at the Education Department. He called it "absolutely essential" that students return to in-person learning this fall.
"We're here to help," Pence said. "We don't want federal guidance to be a substitute for state and local laws and rules and guidance. We're here to assist with the shared objective, which I think is shared by every parent in America, which is we want to get our kids back. We want to get them back in the classroom."
"Remember it's guidance, it's not requirements, and its purpose is to facilitate the reopening and keeping open the schools in this country," CDC Director Robert Redfield said.
Watch Pence's press conference below.
The press conference came on the same day the United States reached a record high of 3 million coronavirus cases and Texas saw its worst single day number of deaths. Texas also hit a 15% Covid-19 positivity rate, a record high since the pandemic began in March. Additionally, it was given on the same day that 37 football players and staff at University of North Carolina tested positive for Covid-19; the average daily case count in Los Angeles County went up 84% in the past month; 26 Mississippi legislators tested positive; and Houston Mayor Sylvester Turner said he "instructed the Houston Forst Corporation to exercise its right contractually in canceling State's Republican Convention."
But let's get kids back into schools this fall, it's totally safe.
"I disagree with [CDC] on their very tough & expensive guidelines for opening schools," Trump tweeted. "While they want them open, they are asking schools to do very impractical things. I will be meeting with them!!!" the President tweeted.
The CDC, whose mission is to protect Americans' health based on scientific expertise, will loosen guidelines for school reopenings after Trump tweeted criticism. He also threatened to withhold school funding. https://t.co/IJlfyHQdcu

— Trip Gabriel (@tripgabriel) July 8, 2020
Today I instructed the Houston First Corporation to exercise its right contractually in cancelling the State's Republican Convention that was set to take place next week at GRB. #COVID19

— Sylvester Turner (@SylvesterTurner) July 8, 2020
Top US disease agency will make school reopening guidelines weaker after Trump complaint https://t.co/bDL6OjALju

— Heather Timmons (@HeathaT) July 8, 2020
No one should look to Donald Trump or Betsy DeVos for public health advice – especially not the @CDCgov.

Schools cannot safely reopen for students and teachers this fall if the @SenateGOP keeps blocking the money schools and states need. https://t.co/QFALVt6oLx

— Elizabeth Warren (@SenWarren) July 8, 2020
CDC Caves to Trump On School Re-Openings https://t.co/Yd1zFomi8C

— #TuckFrump (@realTuckFrumper) July 8, 2020
Dear @CDCDirector: In response to my request at 5:20 of this video, you agreed to follow science if it contradicts @realDonaldTrump. If you now change @CDCgov guidelines to appease Trump, you are not following science, you are being a political hack.https://t.co/rrXFR6AhfC

— Ted Lieu (@tedlieu) July 8, 2020
Trump repeatedly overrules the CDC, the WHO and Dr. Fauci. Because he's anti-science and he says he knows more.

God help us all.

— Bryan Behar (@bryanbehar) July 8, 2020
Are you sure? No masks, no social distancing, hundreds crammed together like sardines. I mean, @realDonaldTrump and @VP seem to know more than CDC and NHI. Fingers crossed that filter worked killing 99.9% in AZ. #COVIDIOTS pic.twitter.com/n3BpMPNP3e

— ChargerGirl (@txsdchargergirl) July 8, 2020
More Than 100 Roger Stone Accounts, Pages Removed from Instagram and Facebook
A network of more than 100 social accounts and pages related to former Trump adviser Roger Stone were removed Wednesday. The under the radar raid reportedly consisted of 54 Facebook accounts, 50 Facebook pages and four accounts on Instagram, a photo-sharing platform owned by Facebook.
Approximately 260,000 accounts followed one or more of these Pages and 61,500 people followed one or more of these Instagram accounts. Several of the pages were also linked to the Proud Boys, a far-right group banned from Facebook in 2018.
The pages and accounts in question appeared to have "coordinated inauthentic behavior" focused on audiences in the U.S., targeting Stone directly, political issues in Florida, and hacked materials released by WikiLeaks during the 2016 presidential election cycle.
"The people behind this activity used fake accounts — some of which had already been detected and disabled by our automated systems — to pose as residents of Florida, post and comment on their own content to make it appear more popular than it is, evade enforcement, and manage Pages," Nathaniel Gleicher, Facebook's head of cybersecurity policy, wrote in a blog post for the social media giant. "Several of these Pages had links to Proud Boys, a hate group we banned in 2018. Some Pages appeared to have acquired followers from Pakistan and Egypt to make themselves seem more popular than they were."
The network was most active between 2015-2017, according to Gleicher.
"Since then, the majority of these accounts have been dormant, and some were permanently deleted by the users," he wrote. "The Page admins and account owners posted about local politics in Florida, Roger Stone and his Pages, websites, books, and media appearances, a Florida land and water resources bill, the hacked materials released by Wikileaks ahead of the US 2016 election, candidates in the 2016 primaries and general election, and the Roger Stone trial."
Gleicher added, "We first started looking into this network as part of our investigation into the Proud Boys' attempts to return to Facebook after we had designated and banned them from the platform. We identified the full scope of this network following the recent public release of search warrants pertaining to the investigation by Special Counsel Robert Mueller in response to a joint petition from The New York Times, CNN, the Associated Press, The Washington Post, and Politico. Our investigation linked this network to Roger Stone and his associates."
Gleicher's team concluded that advertising spent on the campaigns totaled less than $308,000.
Examples of the posts are below.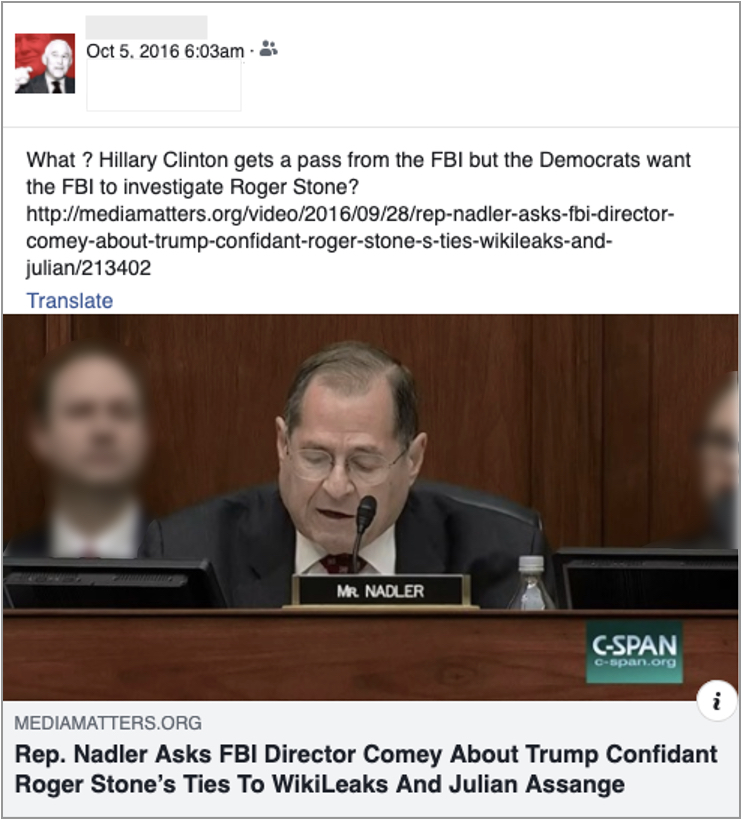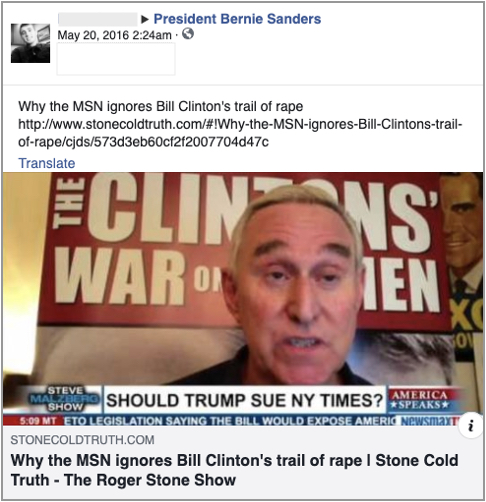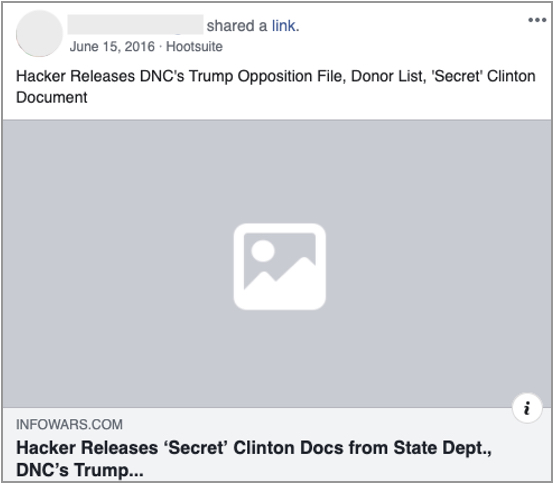 This past February, Stone was sentenced to 40 months in prison following his conviction of lying to Congress, witness tampering and obstructing a proceeding related to the Robert Mueller investigation into the 2016 election and Russian interference.