Kremlin Embarrasses Trump – Again
The Kremlin has just embarrassed President Donald Trump, again. On Tuesday the Kremlin leaked news that Russian President Vladimir Putin met with President Trump and First Lady Melania Trump on the sidelines of the G-20 Summit in Buenos Aires in November. The meeting was previously not publicly known, but The Financial Times first reported on the story.
What made the news a bombshell is that President Trump held the meeting with President Putin without a single U.S. official present. No government officials, no translators, no one from the State Dept. Russia is a hostile foreign country that attacked America's elections in 2016, and has been waging a cyber war against the U.S. political system since at least 2013. It is unprecedented to have held the meeting without a U.S. witness, especially someone to record the details of what happened.
That was embarrassment number one.
Embarrassment number two came Wednesday, via TASS, the official state media news outlet of the Kremlin.
In response to the news that President Trump had no translator or other official on hand as he met with Putin, Kremlin spokesperson Dmitry Peskov told reporters (link to TASS article in Russian), "It's none of our business whether Trump had an interpreter; Putin's interpreter is always by his side — we have stability and order in that regard," according to Russian Media Analyst Julia Davis.
And that sounds like a strong dig at the Trump White House. Basically, President Putin knows what he's doing, it's none of our business that President Trump does not.
The Kremlin responds to the reports that no staff or interpreters were present during Trump's conversation with Putin at the G20:
"It's none of our business whether Trump had an interpreter; Putin's interpreter is always by his side — we have stability and order in that regard." pic.twitter.com/TTXsD382Y4

— Julia Davis (@JuliaDavisNews) January 30, 2019
MSNBC's Rachel Maddow has made the case that Putin could be blackmailing Trump.
RELATED STORIES:
'WHAT DOES PUTIN HAVE ON THE PRESIDENT?': PELOSI DELIVERS DEVASTATING DENUNCIATION OF TRUMP
IN SWITCH EMBARRASSING TO TRUMP PUTIN NOW SAYS HE'S READY TO COME TO WASHINGTON
TRUMP BOWS DOWN TO PUTIN WHILE STANDING IN FRONT OF U.S. TROOPS
Enjoy this piece?
… then let us make a small request. The New Civil Rights Movement depends on readers like you to meet our ongoing expenses and continue producing quality progressive journalism. Three Silicon Valley giants consume 70 percent of all online advertising dollars, so we need your help to continue doing what we do.
NCRM is independent. You won't find mainstream media bias here. From unflinching coverage of religious extremism, to spotlighting efforts to roll back our rights, NCRM continues to speak truth to power. America needs independent voices like NCRM to be sure no one is forgotten.
Every reader contribution, whatever the amount, makes a tremendous difference. Help ensure NCRM remains independent long into the future. Support progressive journalism with a one-time contribution to NCRM, or click here to become a subscriber. Thank you. Click here to donate by check.
Trump Harasses CDC Into New School Re-Opening Guidelines As COVID Cases Reach 3 Million
The Centers for Disease Control and Prevention (CDC) Wednesday presented a set of guidelines for returning to school this fall. Guidelines that were almost immediately trashed by President Donald Trump.
"We hope that most schools are going to be open," Trump said at a White House event Wednesday. "They think it's going to be good for them politically, so they keep the schools closed…no way. We're very much going to put pressure on governors and everybody else to open the schools, to get them open."
I disagree with @CDCgov on their very tough & expensive guidelines for opening schools. While they want them open, they are asking schools to do very impractical things. I will be meeting with them!!!

— Donald J. Trump (@realDonaldTrump) July 8, 2020
Vice President Mike Pence responded to the rebuke during a news conference addressing the issue. Pence said the CDC will issue new guidelines with "more clarity." Pence addressed the update during his White House coronavirus task force meeting at the Education Department. He called it "absolutely essential" that students return to in-person learning this fall.
"We're here to help," Pence said. "We don't want federal guidance to be a substitute for state and local laws and rules and guidance. We're here to assist with the shared objective, which I think is shared by every parent in America, which is we want to get our kids back. We want to get them back in the classroom."
"Remember it's guidance, it's not requirements, and its purpose is to facilitate the reopening and keeping open the schools in this country," CDC Director Robert Redfield said.
Watch Pence's press conference below.
The press conference came on the same day the United States reached a record high of 3 million coronavirus cases and Texas saw its worst single day number of deaths. Texas also hit a 15% Covid-19 positivity rate, a record high since the pandemic began in March. Additionally, it was given on the same day that 37 football players and staff at University of North Carolina tested positive for Covid-19; the average daily case count in Los Angeles County went up 84% in the past month; 26 Mississippi legislators tested positive; and Houston Mayor Sylvester Turner said he "instructed the Houston Forst Corporation to exercise its right contractually in canceling State's Republican Convention."
But let's get kids back into schools this fall, it's totally safe.
"I disagree with [CDC] on their very tough & expensive guidelines for opening schools," Trump tweeted. "While they want them open, they are asking schools to do very impractical things. I will be meeting with them!!!" the President tweeted.
The CDC, whose mission is to protect Americans' health based on scientific expertise, will loosen guidelines for school reopenings after Trump tweeted criticism. He also threatened to withhold school funding. https://t.co/IJlfyHQdcu

— Trip Gabriel (@tripgabriel) July 8, 2020
Today I instructed the Houston First Corporation to exercise its right contractually in cancelling the State's Republican Convention that was set to take place next week at GRB. #COVID19

— Sylvester Turner (@SylvesterTurner) July 8, 2020
Top US disease agency will make school reopening guidelines weaker after Trump complaint https://t.co/bDL6OjALju

— Heather Timmons (@HeathaT) July 8, 2020
No one should look to Donald Trump or Betsy DeVos for public health advice – especially not the @CDCgov.

Schools cannot safely reopen for students and teachers this fall if the @SenateGOP keeps blocking the money schools and states need. https://t.co/QFALVt6oLx

— Elizabeth Warren (@SenWarren) July 8, 2020
CDC Caves to Trump On School Re-Openings https://t.co/Yd1zFomi8C

— #TuckFrump (@realTuckFrumper) July 8, 2020
Dear @CDCDirector: In response to my request at 5:20 of this video, you agreed to follow science if it contradicts @realDonaldTrump. If you now change @CDCgov guidelines to appease Trump, you are not following science, you are being a political hack.https://t.co/rrXFR6AhfC

— Ted Lieu (@tedlieu) July 8, 2020
Trump repeatedly overrules the CDC, the WHO and Dr. Fauci. Because he's anti-science and he says he knows more.

God help us all.

— Bryan Behar (@bryanbehar) July 8, 2020
Are you sure? No masks, no social distancing, hundreds crammed together like sardines. I mean, @realDonaldTrump and @VP seem to know more than CDC and NHI. Fingers crossed that filter worked killing 99.9% in AZ. #COVIDIOTS pic.twitter.com/n3BpMPNP3e

— ChargerGirl (@txsdchargergirl) July 8, 2020
More Than 100 Roger Stone Accounts, Pages Removed from Instagram and Facebook
A network of more than 100 social accounts and pages related to former Trump adviser Roger Stone were removed Wednesday. The under the radar raid reportedly consisted of 54 Facebook accounts, 50 Facebook pages and four accounts on Instagram, a photo-sharing platform owned by Facebook.
Approximately 260,000 accounts followed one or more of these Pages and 61,500 people followed one or more of these Instagram accounts. Several of the pages were also linked to the Proud Boys, a far-right group banned from Facebook in 2018.
The pages and accounts in question appeared to have "coordinated inauthentic behavior" focused on audiences in the U.S., targeting Stone directly, political issues in Florida, and hacked materials released by WikiLeaks during the 2016 presidential election cycle.
"The people behind this activity used fake accounts — some of which had already been detected and disabled by our automated systems — to pose as residents of Florida, post and comment on their own content to make it appear more popular than it is, evade enforcement, and manage Pages," Nathaniel Gleicher, Facebook's head of cybersecurity policy, wrote in a blog post for the social media giant. "Several of these Pages had links to Proud Boys, a hate group we banned in 2018. Some Pages appeared to have acquired followers from Pakistan and Egypt to make themselves seem more popular than they were."
The network was most active between 2015-2017, according to Gleicher.
"Since then, the majority of these accounts have been dormant, and some were permanently deleted by the users," he wrote. "The Page admins and account owners posted about local politics in Florida, Roger Stone and his Pages, websites, books, and media appearances, a Florida land and water resources bill, the hacked materials released by Wikileaks ahead of the US 2016 election, candidates in the 2016 primaries and general election, and the Roger Stone trial."
Gleicher added, "We first started looking into this network as part of our investigation into the Proud Boys' attempts to return to Facebook after we had designated and banned them from the platform. We identified the full scope of this network following the recent public release of search warrants pertaining to the investigation by Special Counsel Robert Mueller in response to a joint petition from The New York Times, CNN, the Associated Press, The Washington Post, and Politico. Our investigation linked this network to Roger Stone and his associates."
Gleicher's team concluded that advertising spent on the campaigns totaled less than $308,000.
Examples of the posts are below.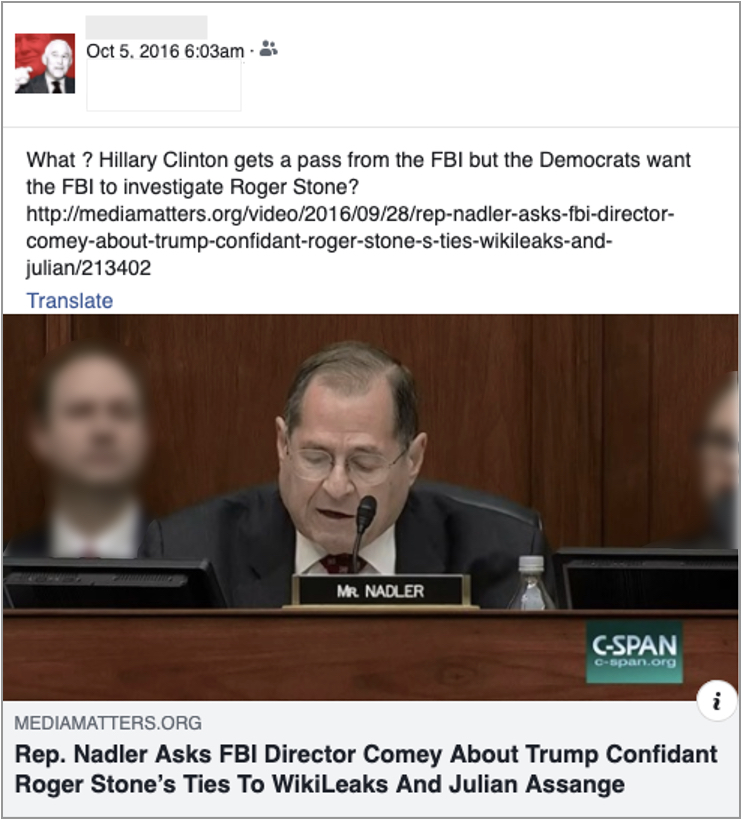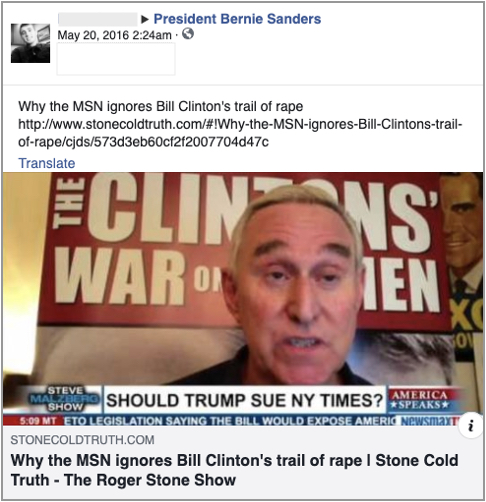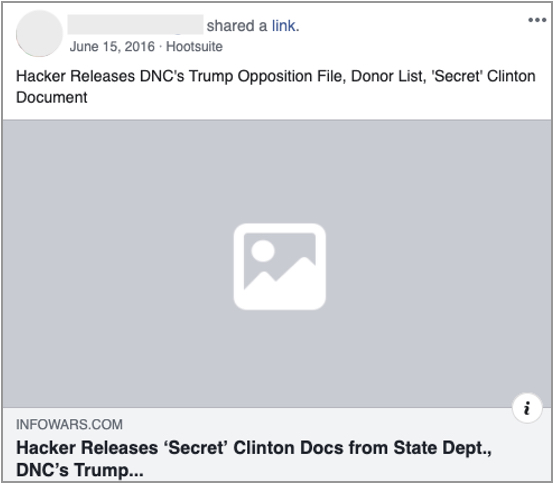 This past February, Stone was sentenced to 40 months in prison following his conviction of lying to Congress, witness tampering and obstructing a proceeding related to the Robert Mueller investigation into the 2016 election and Russian interference.
War Hero Alexander Vindman Retires After Excessive 'Bullying' by the President
After more than 21 years of service with the US Army, Lt. Col. Alexander Vindman has announced his retirement. The 45-year-old decorated war hero endured numerous attacks by Donald Trump leading up to, during and following his key witness account in Trump's impeachment inquiry last November.
In February, Trump fired Vindman as the top Ukraine expert on the National Security Council. Vindman's twin brother, Army Lt. Col. Yevgeny Vindman, was escorted off White House grounds at the same time and apparently dismissed from his post at the National Security Council.
Allegations in recent weeks suggested the White House was attempting to block Vindman's upcoming military promotion to the rank of colonel.
Trump's former national security adviser John Bolton was promoting his new book "In the Room Where It Happened" when he told Jake Tapper, "Based on not just his service, but his twin brother's service at the NSC, both of whom were pushed out of their assignments early, I think they certainly deserve promotion based on what I saw. They shouldn't be discriminated against."
He added, "I hope there's nobody in the White House who's holding this up or putting bureaucratic obstacles in the way. I think this is something, this kind of corruption of this promotion process, unfortunately, typical of a number of things that have happened in the administration, I think it's a bad signal to all of our military."
Legal representative for Vindman, Amb. David Pressman, said Trump's vendetta against his client was a campaign filled with "bullying, intimidation and retaliation."
"The President of the United States attempted to force LTC Vindman to choose: Between adhering to the law or pleasing a President. Between honoring his oath or protecting his career. Between protecting his promotion or the promotion of his fellow soldiers," Pressman said in a statement to CNN. "These are choices that no one in the United States should confront, especially one who has dedicated his life to serving it," he added, noting that Vindman "did what the law compelled him to do; and for that he was bullied by the President and his proxies."
Vindman received the Purple Heart for his service in the Iraq War.
In November, Lt. Col. Alexander Vindman addressed his dad while testifying in the impeachment inquiry, saying: "Do not worry, I will be fine for telling the truth."

Today, he is retiring — citing "a campaign of bullying, intimidation, and retaliation."https://t.co/O9g0sh248A

— NPR (@NPR) July 8, 2020
Today I officially requested retirement from the US Army, an organization I love. My family and I look forward to the next chapter of our lives. pic.twitter.com/h2D9MRUHY2

— Alexander S. Vindman (@AVindman) July 8, 2020